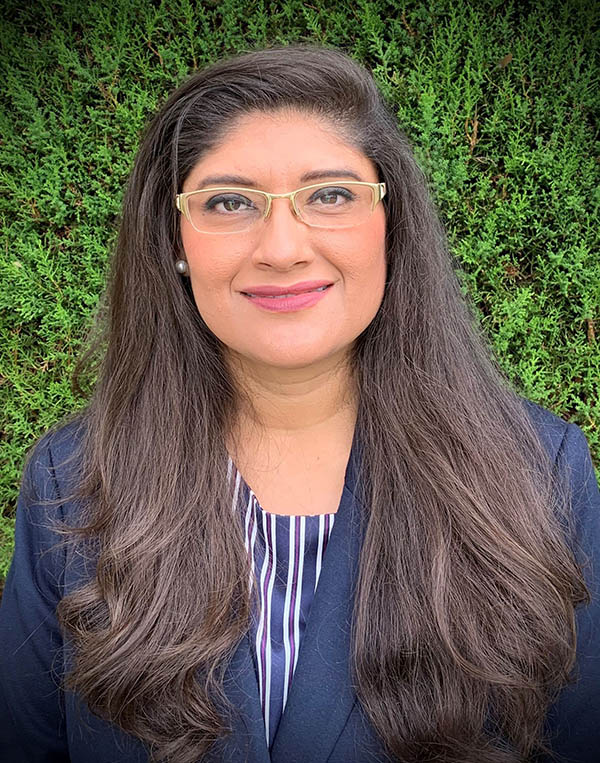 Adriana Moreno
OCFJC Executive Director
Adriana joins the OCFJC Foundation with more than 18 years of experience in the nonprofit sector. Prior to accepting this position, she was the Administrative Director of the Orange County Opportunity Initiative, a project shared by a collaborative of service providers, funders, and the Orange County Community Foundation. She also established and managed her own consulting business, providing support to different organizations in the non-profit and business sectors throughout Orange County. Adriana holds a Bachelor of Arts Degree (BA) in Spanish Literature, as well as a Master's Degree in Public Health (MPH) from the University of California, Irvine and California State University, Fullerton respectively.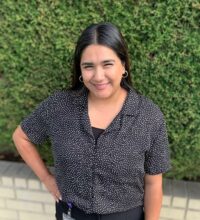 Letizia Alcibar
Program Coordinator, OCFJCF
Starting in August, Letizia Alcibar will be transitioning to her new role as the Administrative/Program Coordinator for the Orange County Family Justice Center Foundation, having worked as one of our Youth Prevention Educators for a year. She grew up in Orange County her whole life. While attending junior college she worked for other non-profit organizations as a lifeguard/swim instructor to children and adults of ages and children on the spectrum. In 2021, she received her bachelor's degree in Anthropology from San Francisco State University and moved back to Orange County to explore a career helping adults and children in her Latino community. Helping her community has always been a passion of hers. As a youth educator, she found it rewarding to be a mentor, support system, and resource to the families she served at the OCFJCF. In her new role, Letizia will continue to carry out the foundation's mission and goals. She is excited and grateful to be able to embark on this new opportunity. We look forward to having her step into this new role!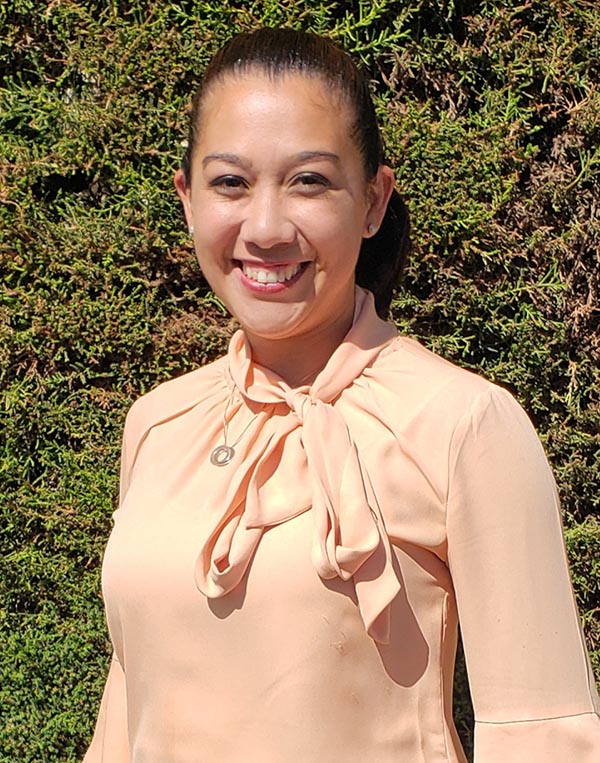 Kristal Landry
Community Service Coordinator, Anaheim Police Department
Kristal Landry is the Community Service Coordinator at the Orange County Family Justice Center. Kristal is one of three siblings, they are first generation born in the US, grew up in Norwalk, Ca. and her parent came from Nicaragua in 1982. She has been married for 12 years to Daniel and they have two children, David (10) and Amelia (8). Kristal attended Cal State Fullerton, majored in Human Services. In 2007-2008, she interned at the Anaheim Family Justice Center (AFJC) working directly with Sexual Assault victims through Waymakers. Once she graduated in 2008, she stayed on as a volunteer, supported victims, and helped provide resources through various programs. In 2009, Kristal was hired as the Sexual Assault Victim Advocate at the AFJC, working side by side with the detectives, district attorney, advocates, and other collaborative partners, she responded to their request, accompanied and provided support to victims during their interviews, at the hospital and at court. She established rapport and worked hand in hand with the Foundation, assisting with events/programs. Kristal was part of the Crisis Response Team (CRT) which provided support and services to victims of a crime that occurred in any city in Orange County. CRT had a program that specifically had advocate do ride along with Fullerton Police Department, responding to domestic violence calls which Kristal did once a month for a year. In 2012 she was recipient of the AFJC Individual Contributor of the Year award.
Kristal then got hired by the City of Anaheim in 2016, working as a Records Specialist at the Police Department. She joined the Peer Support Team for the Police Department and throughout the years she has completed the 48- Sexual Assault Training, 40-hour domestic violence training, as well as other training provided through her advocacy, CRT and Peer Support. In October 2021, Kristal returned to the Orange County Family Justice Center as the Community Service Coordinator, she is excited to start her new role.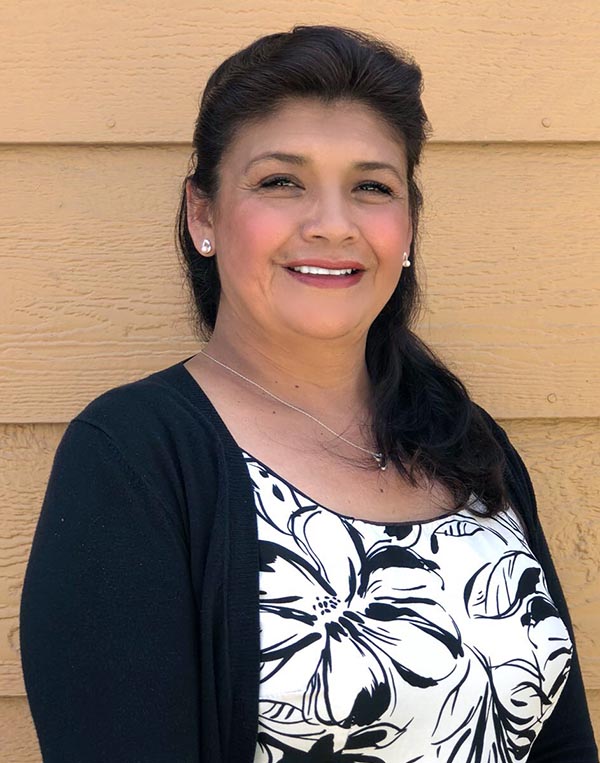 Leticia Sanchez
Parent Empowerment and
Prevention Educator, OCFJCF
Born in Jalisco, Mexico, Leticia Sanchez came from a humble family of six. At a young age, Leticia experienced domestic violence in her home, but she did not let that stop her from being willing to help others and pursue her education. It was while pursuing a postsecondary education that Leticia discovered her passion to help women and children. Leticia would soon begin her career as a public servant and held the title of Civil Judge, President Desarollo Integal de la Familia(DIF) in her local town and continued to serve the community in other capacities. After moving to the U.S., Leticia continued her community work through volunteerism at a number of organizations including the City of Anaheim Community Center, My Safe Harbor, Champions for Change, For Girls Program, Perfect Connection, and Vision & Commitment. Leticia later participated in a program held at the OCFJC and would go on to become a valuable member of our team. At the OCFJCF, she has developed curriculums and facilitated classes for our Kids Creating Change Program. Now, we are thrilled to announce that Leticia is our newest Parent Empowerment and Prevention Educator.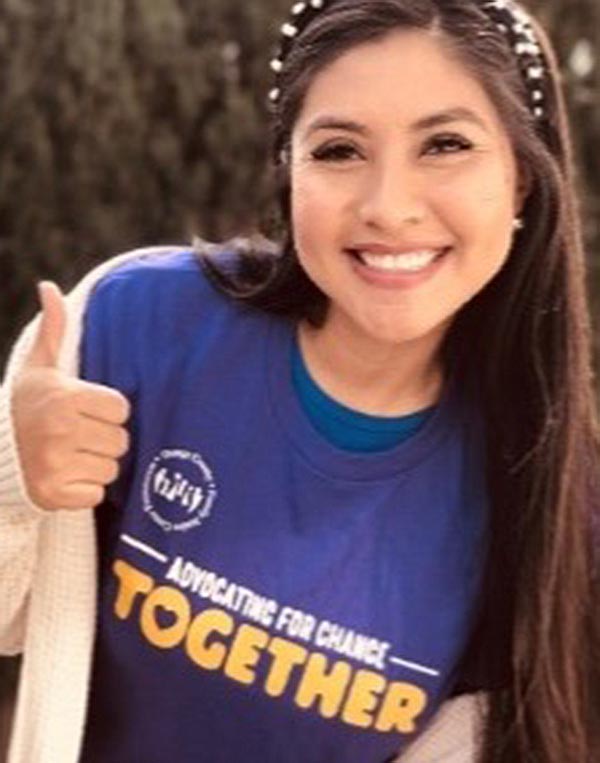 Damaris Wardle
Youth Empowerment &
Prevention Educator, OCFJCF
Damaris Wardle first generation immigrant college students. As a teen, she volunteered as an Explorer for the Los Angeles Police Department, Northeast Division. Damaris attended Glendale Community College and then transferred to Biola University where she earned her B.A in Psychology in 2016. After graduation, she volunteered for 3 years with Joya Scholars, a non-profit organization that supports aspiring first generation students in the community. Her background experience consists of Applied Behavior Analysis therapy where she served clients diagnosed with Autism. Damaris also worked at the Orange County Department of Education, Division of Alternative Education. Here she served the incarcerated youth, foster youth, and the "at-promised" population. Damaris is a current student for the Masters of Social Work program at California State University, Long Beach. Damaris has been with the OCFJCF as a Youth Empowerment and Prevention Educator for 3 years. She is passionate to serve and educate the community about the importance of violence prevention and positive environmental exposure. She enjoys spending time with her family, husband, friends, loves to hike, and enjoys watching Disney Plus.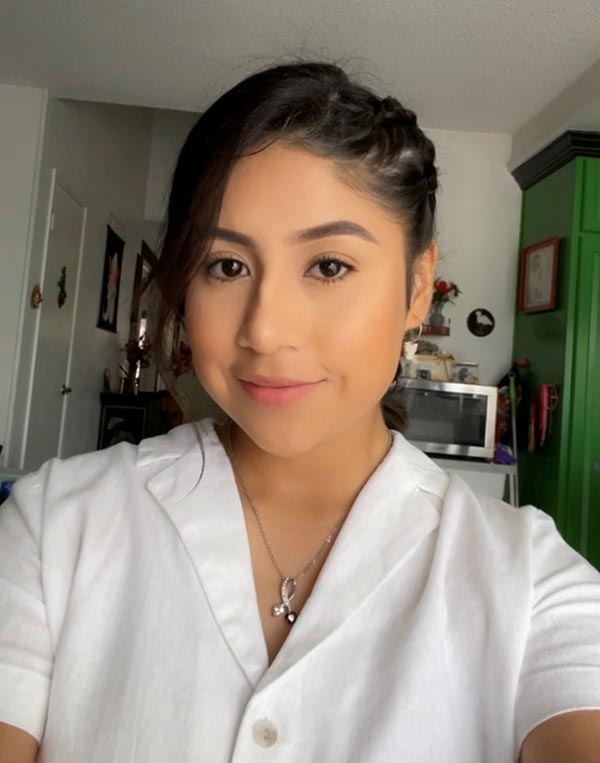 Denisse Barrera
Youth Empowerment &
Prevention Educator, OCFJCF
My name is Denisse Barrera. I am currently enrolled at Fullerton College, where I am pursuing a degree in Administration of Justice. Next year, I'll finish my associate degree and then transfer to California University State, Fullerton to finish my bachelor's degree in Administration of Justice. I've been a member of the Anaheim Police Explorers Program for four years and continue to volunteer. Furthermore, I volunteered at the OCFJCF for two years prior to joining the team. I enjoy working with children and teenagers because my goal is to make a difference in not only their lives, but in the lives of everyone else by providing them with our resources and prevention programs.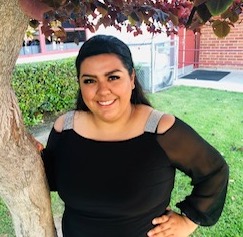 Charlene Tinajero
OCFJCF Intern
Charlene Tinajero was born and raised in Santa Ana, California and through her years within the Santa Ana School Police Explorer Post as a teen, she began her path in a law enforcement career. Being in the explorer post-program, Charlene discovered her passion in acts of service, helping others in her community. Charlene attended Santa Ana College where she had the privilege, thanks to her parents Julia Tinajero and Ruben Tinajero, of receiving five different Associate's degrees. Charlene is now pursuing her Bachelor's Degree in Administration of Justice at Cal State Dominguez Hills and is expected to graduate in May 2022. Charlene chose this location to conduct her internship due to the Orange County Family Justice Center's deep and profound impact on the community. Charlene believes in the mission of Foundation/Center and with her passion for public service, made the clear decision that this internship called to her.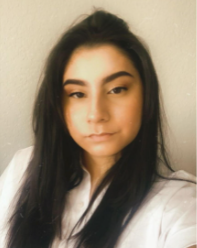 Daisy Chocoteco
OCFJCF Intern
My name is Daisy Chocoteco, and I am an Orange County Family Justice Center intern. I am double majoring in Psychological Science and Criminology, Law & Society at the University of California, Irvine. I want to help children and adolescents, and their families get the resources they need. I chose the OC Family Justice Center because I can view how Law and Psychology coincide with one another in one place.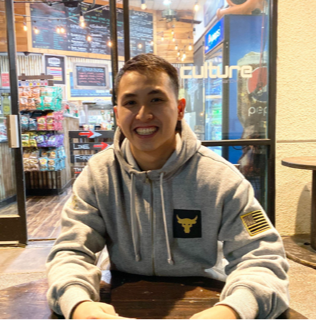 Peter Pham
OCFJCF Intern
Peter is currently a student at Cal State Long Beach and previously attended Golden West College and received an Associate's degree in Criminal Justice. Now Peter is working to get a Bachelor's degree in Criminology and Criminal Justice because of his interest in the field of law enforcement or working with victims. Peter chose Orange County Family Justice Center for an internship because working and supporting victims of violence is one of the fields that he's interested in getting into. Peter's very passionate about helping people and hopes to make a difference in people's lives positively and healthily.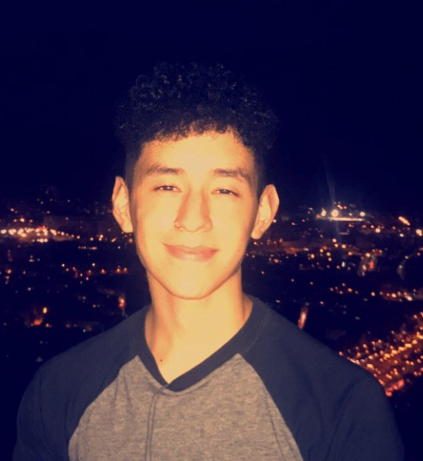 Victor Napoles
OCFJCF Intern
Victor is currently studying for his Bachelor's in Criminal Justice out of California State University, Long Beach [CSULB]. As a teen, he continuously volunteered for his community, church, and school, as a server at Mary's Mercy Center, an usher at his parish, and a member of campus ministry during his time in high school. Victor hopes to continue his role in the community through law enforcement. He chose to intern at the OCFJC so that he could expand his knowledge of the hardships that families go through and develop into the best law enforcement officer that he can be. His hobbies include going to the gym, playing guitar, and spending time with family!