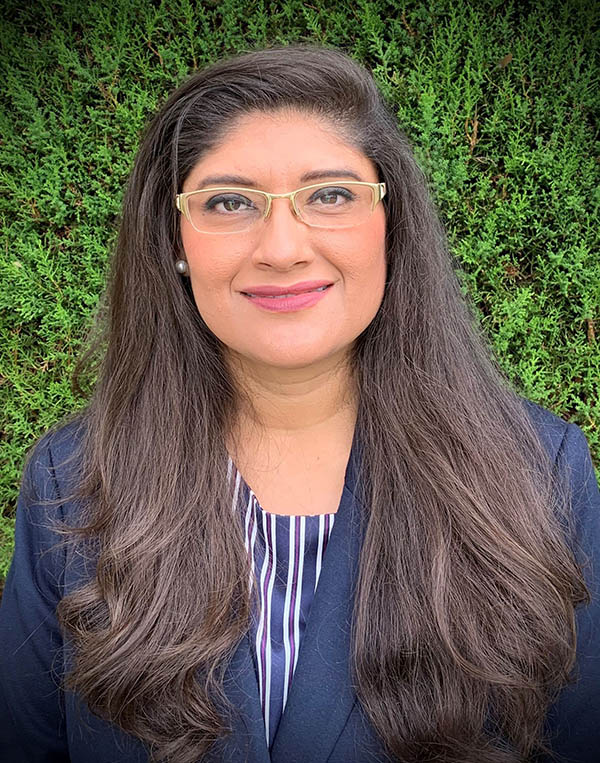 Adriana Moreno
OCFJC Executive Director
Adriana joins the OCFJC Foundation with more than 18 years of experience in the nonprofit sector. Prior to accepting this position, she was the Administrative Director of the Orange County Opportunity Initiative, a project shared by a collaborative of service providers, funders, and the Orange County Community Foundation. She also established and managed her own consulting business, providing support to different organizations in the non-profit and business sectors throughout Orange County. Adriana holds a Bachelor of Arts Degree (BA) in Spanish Literature, as well as a Master's Degree in Public Health (MPH) from the University of California, Irvine and California State University, Fullerton respectively.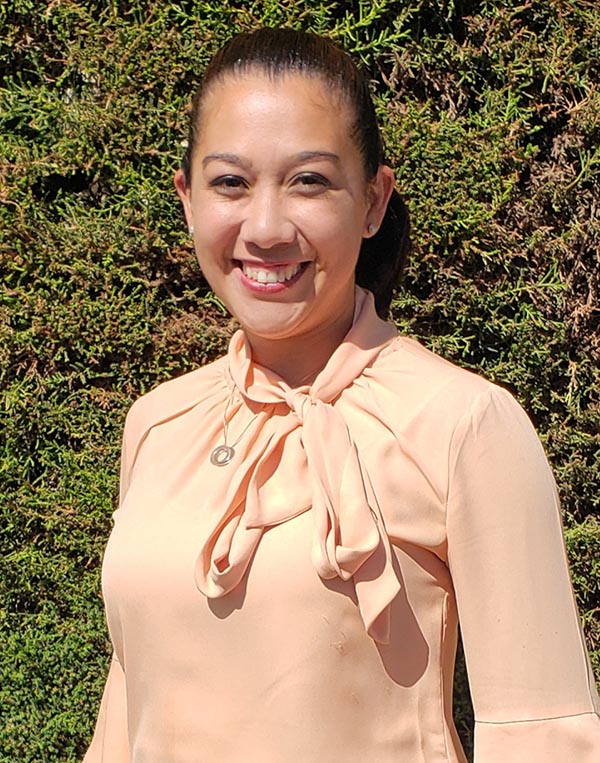 Kristal Landry
Community Service Coordinator, Anaheim Police Department
Kristal Landry is the Community Service Coordinator at the Orange County Family Justice Center. Kristal is one of three siblings, they are first generation born in the US, grew up in Norwalk, Ca. and her parent came from Nicaragua in 1982. She has been married for 12 years to Daniel and they have two children, David (10) and Amelia (8). Kristal attended Cal State Fullerton, majored in Human Services. In 2007-2008, she interned at the Anaheim Family Justice Center (AFJC) working directly with Sexual Assault victims through Waymakers. Once she graduated in 2008, she stayed on as a volunteer, supported victims, and helped provide resources through various programs. In 2009, Kristal was hired as the Sexual Assault Victim Advocate at the AFJC, working side by side with the detectives, district attorney, advocates, and other collaborative partners, she responded to their request, accompanied and provided support to victims during their interviews, at the hospital and at court. She established rapport and worked hand in hand with the Foundation, assisting with events/programs. Kristal was part of the Crisis Response Team (CRT) which provided support and services to victims of a crime that occurred in any city in Orange County. CRT had a program that specifically had advocate do ride along with Fullerton Police Department, responding to domestic violence calls which Kristal did once a month for a year. In 2012 she was recipient of the AFJC Individual Contributor of the Year award.
Kristal then got hired by the City of Anaheim in 2016, working as a Records Specialist at the Police Department. She joined the Peer Support Team for the Police Department and throughout the years she has completed the 48- Sexual Assault Training, 40-hour domestic violence training, as well as other training provided through her advocacy, CRT and Peer Support. In October 2021, Kristal returned to the Orange County Family Justice Center as the Community Service Coordinator, she is excited to start her new role.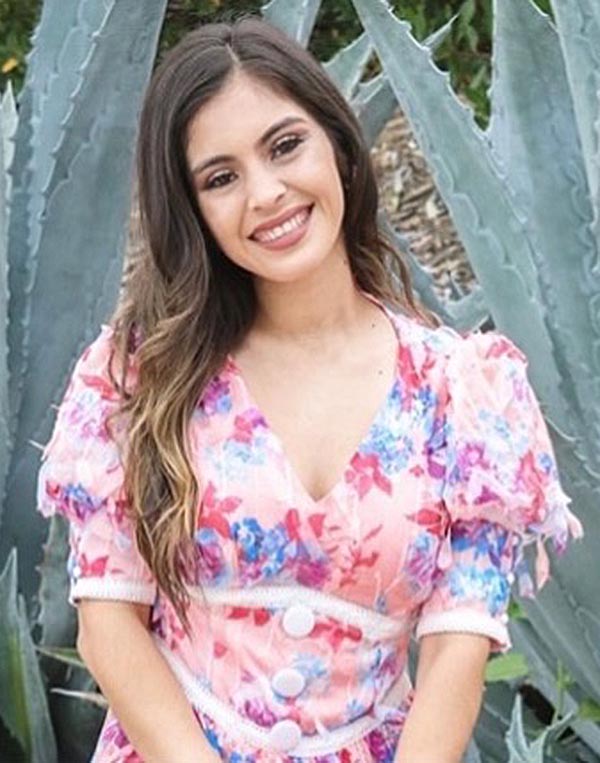 Daisy Dorado
Program Administrator& Coordinator, OCFJCF
Daisy Dorado has been active in the field of advocating for the youth in her community for seven years, focusing on adolescent health and development, early childhood development, implementing applied behavior analysis treatment plans and promoting volunteerism amongst the adolescent community. Daisy has developed and implemented age-appropriate curriculum for the Anaheim Family Justice Center Foundation's signature youth violence prevention programs. Each program is designed to establish a learning environment where children learn to effectively address playground bullying, anger management problems as well as to further develop conflict resolution and communication skills crucial to leading violent free lives.
She currently serves as the OCFJC Foundation Program Coordinator Administrator where she has the privilege of overseeing the Reel Teens, Real Talk and the OCFJC Teen Ambassador Program. These resources are all year round support programs focused on teaching the youth skills and strategies to make healthy choices as they navigate through stressing and often violent environments at school and at home.
Before immersing herself completely into the non-profit sector, Daisy spent five years working as a Sr. Recreation leader for the city of Anaheim. She has enjoyed serving the community that has watched her bloom into the Daisy she is today where she has attended local schools and participated in several youth empowerment programs that enabled her to empower and children and adolescents all throughout Orange County. She has completed several trainings such as the 40-hour domestic violence training certified by the State of California and the Registered Behavior Technician Training.  Daisy is currently finishing her last two semesters at Santiago Canyon College and aspires to continue on passionately building a successful pathway for youth.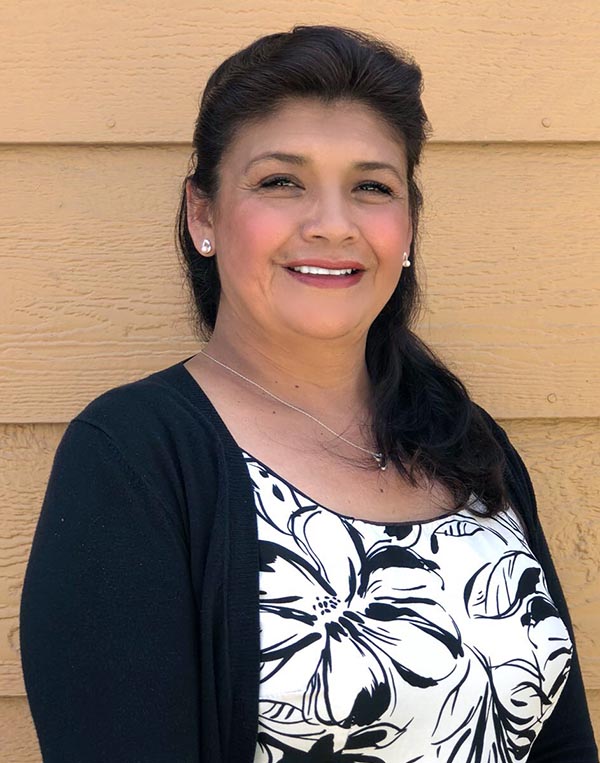 Leticia Sanchez
Parent Empowerment and
Prevention Educator, OCFJCF
Born in Jalisco, Mexico, Leticia Sanchez came from a humble family of six. At a young age, Leticia experienced domestic violence in her home, but she did not let that stop her from being willing to help others and pursue her education. It was while pursuing a postsecondary education that Leticia discovered her passion to help women and children. Leticia would soon begin her career as a public servant and held the title of Civil Judge, President Desarollo Integal de la Familia(DIF) in her local town and continued to serve the community in other capacities. After moving to the U.S., Leticia continued her community work through volunteerism at a number of organizations including the City of Anaheim Community Center, My Safe Harbor, Champions for Change, For Girls Program, Perfect Connection, and Vision & Commitment. Leticia later participated in a program held at the OCFJC and would go on to become a valuable member of our team. At the OCFJCF, she has developed curriculums and facilitated classes for our Kids Creating Change Program. Now, we are thrilled to announce that Leticia is our newest Parent Empowerment and Prevention Educator.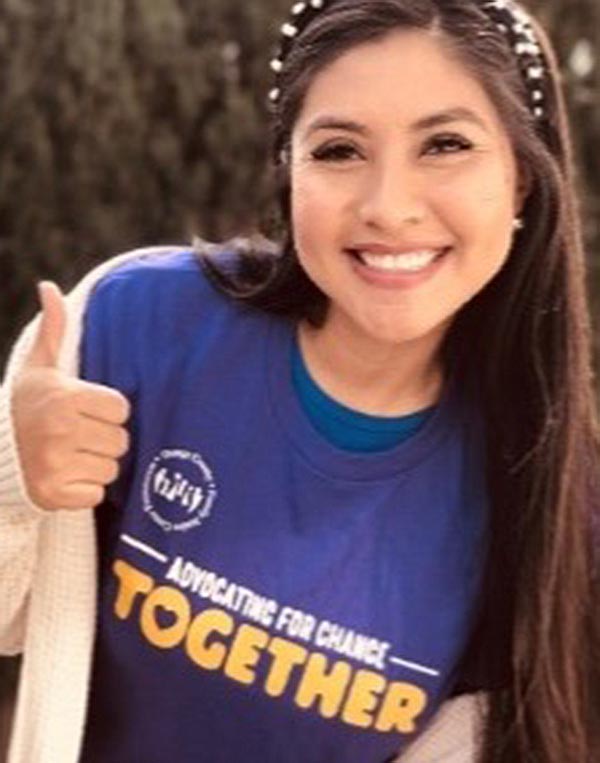 Damaris Wardle
Youth Empowerment &
Prevention Educator, OCFJCF
Damaris Wardle first generation immigrant college students. As a teen, she volunteered as an Explorer for the Los Angeles Police Department, Northeast Division. Damaris attended Glendale Community College and then transferred to Biola University where she earned her B.A in Psychology in 2016. After graduation, she volunteered for 3 years with Joya Scholars, a non-profit organization that supports aspiring first generation students in the community. Her background experience consists of Applied Behavior Analysis therapy where she served clients diagnosed with Autism. Damaris also worked at the Orange County Department of Education, Division of Alternative Education. Here she served the incarcerated youth, foster youth, and the "at-promised" population. Damaris is a current student for the Masters of Social Work program at California State University, Long Beach. Damaris has been with the OCFJCF as a Youth Empowerment and Prevention Educator for 3 years. She is passionate to serve and educate the community about the importance of violence prevention and positive environmental exposure. She enjoys spending time with her family, husband, friends, loves to hike, and enjoys watching Disney Plus.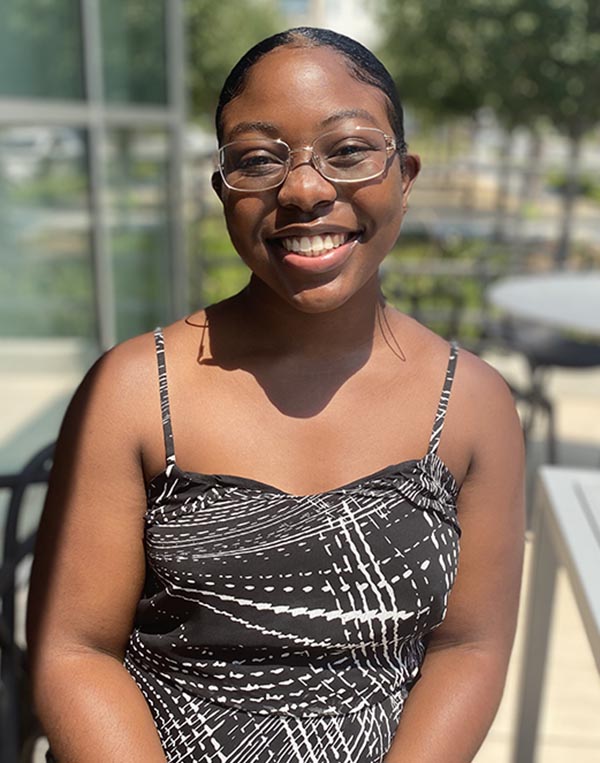 Alliyah Blacksher
Youth Empowerment &
Prevention Educator, OCFJCF
Alliyah is currently a student at Chapman University going into her final semester with a major in Social Work and minor in Psychology. Alliyah hopes to work in the abuse prevention field and is very excited to start this journey at OCFJC Foundation.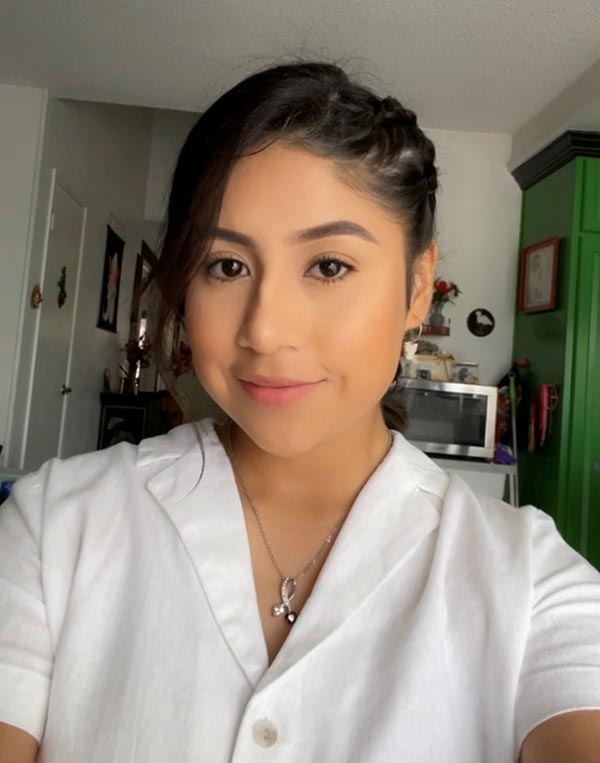 Denisse Barrera
Youth Empowerment &
Prevention Educator, OCFJCF
My name is Denisse Barrera. I am currently enrolled at Fullerton College, where I am pursuing a degree in Administration of Justice. Next year, I'll finish my associate degree and then transfer to California University State, Fullerton to finish my bachelor's degree in Administration of Justice. I've been a member of the Anaheim Police Explorers Program for four years and continue to volunteer. Furthermore, I volunteered at the OCFJCF for two years prior to joining the team. I enjoy working with children and teenagers because my goal is to make a difference in not only their lives, but in the lives of everyone else by providing them with our resources and prevention programs.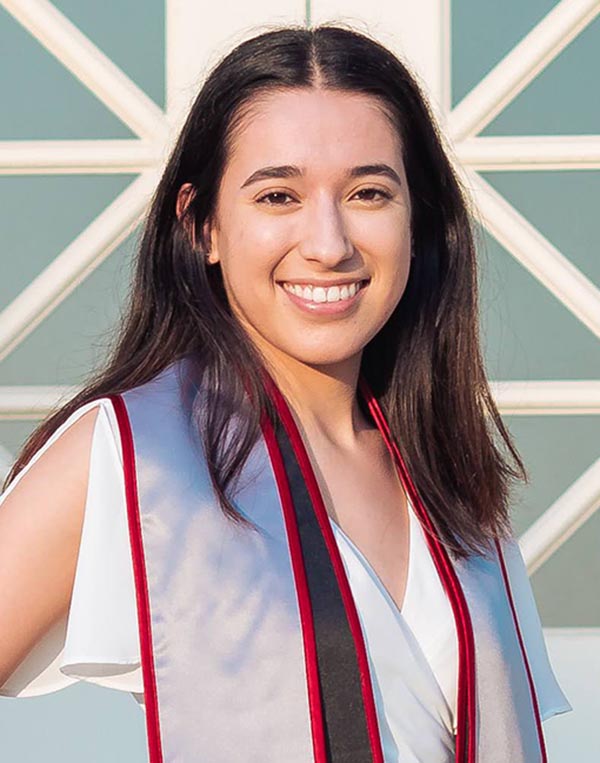 Pilar Quezada
Youth Empowerment &
Prevention Educator, OCFJCF
Pilar is a recent graduate from Chapman University with a B.A. in Political Science and Integrated Educational Studies. As a Mexican American, Pilar has worked hard to build a future for herself that's representative of her culture and heritage. She has advocated for the implementation of Ethnic Studies in K-12 classrooms because it supports the success of at-risk youth and other marginalized groups that are not represented in the school curriculum. Pilar has conducted fieldwork at KidWorks Inc. to become an advocate for her community.
Pilar's goal is to develop empowering programming for youth and children that is responsive to their life experiences. In the future, Pilar hopes to pursue a career in law to provide the knowledge and services for underprivileged communities that do not have access to legal counsel.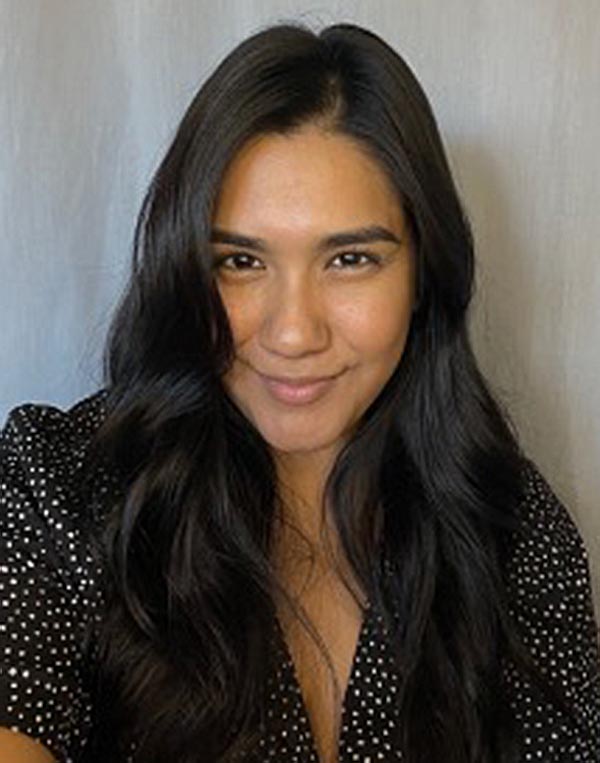 Letizia Alcibar
Youth Empowerment &
Prevention Educator, OCFJCF
Letizia Alcibar is an Empowerment and Prevention Educator at the Orange County Family Justice Center Foundation. She was born in Anaheim and raised in Stanton, California. As an adolescent, school programs such as the Boys and Girls club, Red Shield, and the Anaheim Family YMCA were a major part of her upbringing. These programs helped her build confidence and empowered her to volunteer abroad and in her community. For six years she worked as a swim instructor and Aquatic Therapist for Red Shield. For a short period of time, she worked with children on the spectrum for the Autism and Related Disorders organization as a Behavior Technician. In the following years, she obtained a bachelor's degree in Cultural Anthropology from San Francisco State University.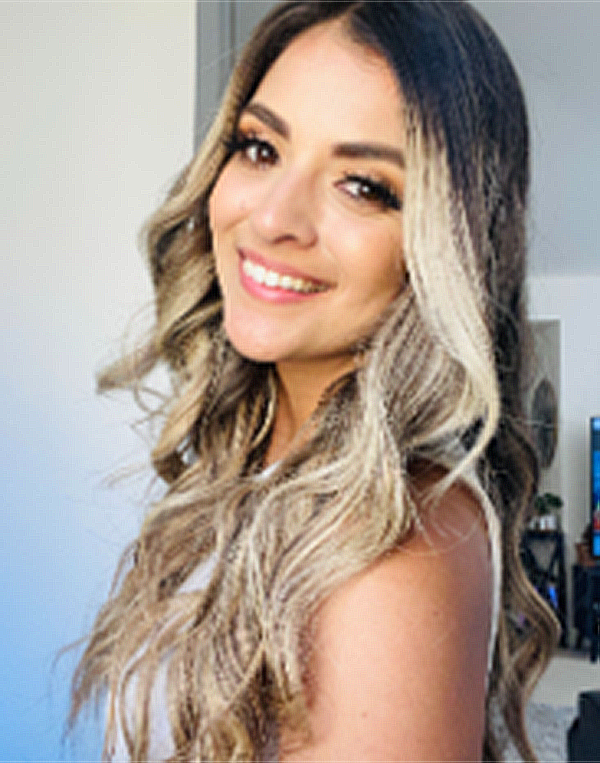 Jazmin Rodriguez
OCFJCF UCI Intern
My name is Jazmin Rodriguez and I am 26 years old. I was born and raised in the City of Anaheim. I attended Santa Ana Community College and earned my associate degree in Liberal Arts: Arts, Humanities, Communication, Liberal Arts: Social and Behavioral Science, and Associates in Science for Transfer with honors. I am currently a student at the University of California, Irvine (UCI) where I will be earning my Bachelor's Degree in Criminology, Law, & Society. I am currently working for the Anaheim Police Department as a Police Cadet. I am very passionate in helping others and I hope to continue my career in the law enforcement field.